Nicole and Devin were married on July 30, 2021 at the Wolfeboro Inn in Wolfeboro, NH. Their wedding was a bit of a 2021 unicorn because it was never rescheduled, and they were able to get the date they wanted right away. It felt like the old days, when you could just plan a wedding and it just happened the way it was supposed to. No postponements, no cancellations, just solid plans made with confidence. It was also my first wedding of the season where it didn't rain. I loved it!
The Wolfeboro Inn is a lovely venue because everything is in one location, and the waterfront is just steps away from the hotel, and the large tent is right outside the door. Getting ready, ceremony, photos, and reception all take place in one of Wolfeboro's loveliest spots on the lake.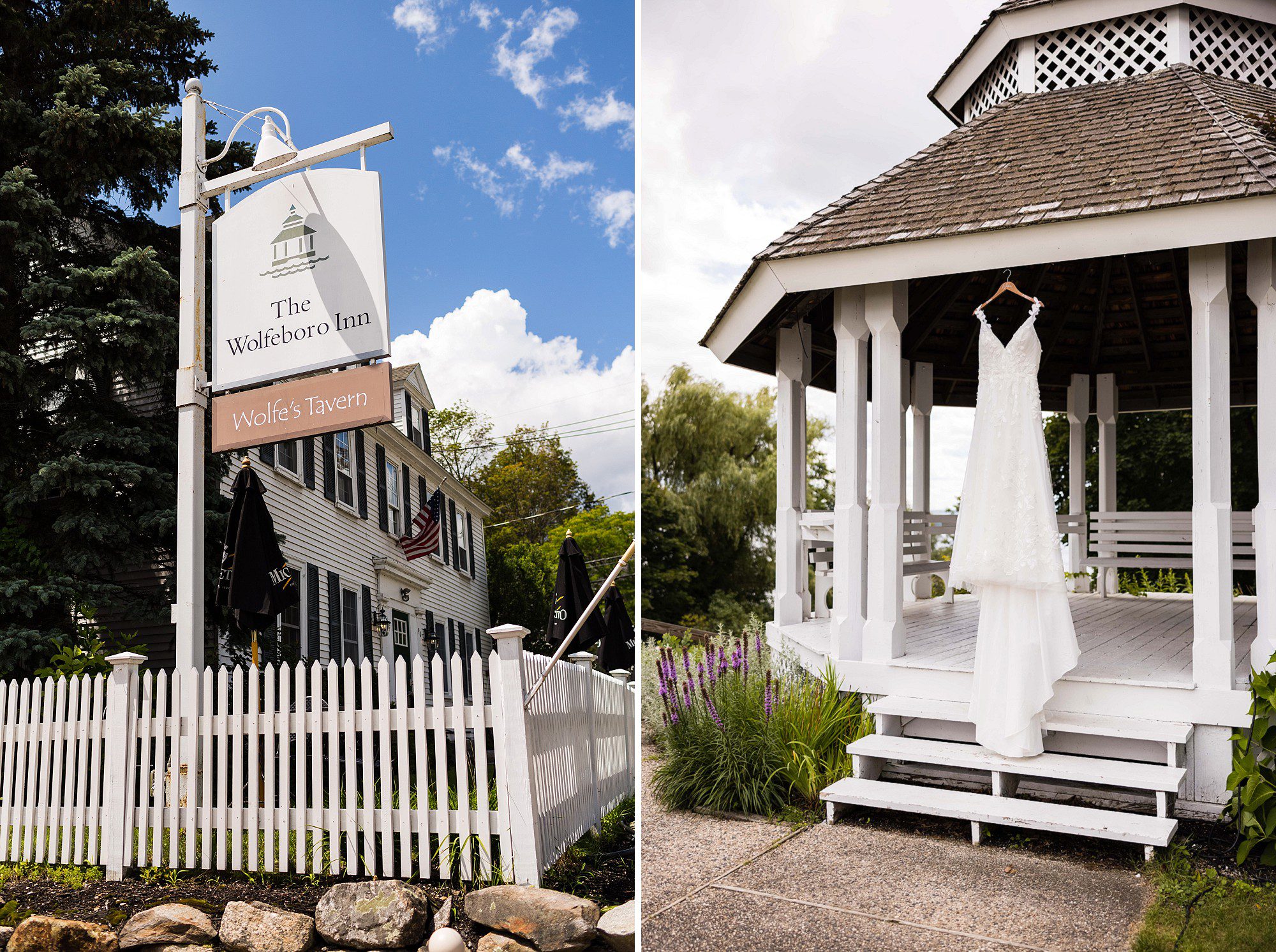 Getting Ready in the Bridal Suite
From the start of the day, Niki became one of my favorite brides ever because she was so completely prepared for the getting ready photos. We knew we wanted to do some flat-lays with all her accessories and invitations, and she had everything gathered for me in a box. She included styling tools like matching ribbons and all kinds of things. It seems like a small thing, but detail photos take a bit of time to set up, and when the photographer has to go around the room finding shoes and jewelry it really takes up time that I could be shooting. It was absolutely amazing and her photos are so interesting because of it.
I just love perfume shots any time I can do them. Sometimes people whip through the perfume so fast that I can't do it (and that's not a shot you can do again or else you'll have waaaaay too much perfume on). But of course Niki was prepared for this shot. Who can resist Lancome's La Vie Est Belle as a scent that goes so easily from everyday to wedding day?
Meanwhile Devin was in another part of the hotel with his groomsmen getting ready. He had a lovely card from Niki to read, and a gift to open.
Any lake wedding at the Wolfeboro Inn must include lots of photos at the dock, and that is just where Niki and Devin had their first look and wedding party photos.
Wolfeboro Inn Ceremony
The Wolfeboro Inn has a nice garden area in between the hotel and the waterfront. It slopes down steeply from the parking lot, but it offers sweeping views of the lake and the mountains beyond.
Tented Reception at the Wolfeboro Inn
After the ceremony, the rest of the day was a whirlwind of more photos, eating, dancing, and merriment. Niki and Devin enjoyed every minute with all of their guests and the tent in the garden at the Inn looked so pretty.
Cocktail hour catering was provided by the Wolfeboro Inn and they created a very impressive charcuterie spread for all the guests.
The first dances and speeches were all beautiful and heartfelt.
What a spread! This fantastic cake was made by Courtney Couture of Mezzanine Catering. Along with the cake, the hotel provided a dessert assortment including brownies, chocolate covered strawberries, cannolis and tarts. With no detail spared, there were also s'mores kits for the firepit.
A beautiful sunset provided some sweet ambiance for a few more photos by the water, and then everyone danced the night away!
Venue & Catering: Wolfeboro Inn, Wolfeboro NH
Florist: Lyndsey Loring Design
DJ: Perfect Entertainment
Cake: Courtney Couture, Mezzanine Catering
Videographer: Fisher Video
Beauty: Styled for the Aisle
Bridal Shop: Marry and Tux
Dress: Morilee
Photographer: Erika Follansbee
2nd Shooter: Amanda Lowe
---
See More Weddings From NH's Lakes Region